TRAINING LOAD DEFINITION
Training Load And Recovery– In SPORTS TRAINING load is a central phase or stage by which the performance of an individual or a sportsperson is enhanced. Every sports training consist of physical activity or exercise and movement which causes fatigue or tiredness. Fatigue is directly an outcome of training load which helps in the process of adaptation. So training load and fatigue, drowsiness is very important for any kind of sportsman performance.
If the load remains continual then there will be a lack of action or activity in the performance. Training load helps to stimulate the different organs of the body which helps to adapt these by genuine shape to the body so that the maximal possible work can be done in minimum effort.
In other words, We can say the amount of work done by an individual body is known as a load.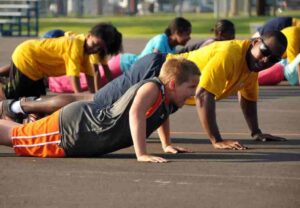 Both training and competition loads enhance sports performance. In the process of long-term training, the quantum of the load is gradually increased and this leads to improving performance. A beginner adapts to training load faster whereas with the increase in training age, higher loads are administered and this results in a slower increase in performance.
A sportsperson cannot effectively undertake very high loads of training unless proper means are adapted to accelerate the process of recovery. Administrating appropriate means can ensure quicker recovery and makes sportsman capable of undertaking more frequent loads.
Read more about- what are endurance and its types?
Recovery from training and competition loads requires a considerable amount of time recovery can be divided into three phases:-
PHASE I
In this phase, the one set of and recovery go on simultaneously therefore when the training or competition is in process. This process occurs because of the Re-synthesis of ATP, CP, glycogen, and some to an extent because of the neutralization of lactic acid. Those activities which continue for a long duration and those sports which are played for a considerable period, the pace of recovery. This phase plays an important role. Recovery during this phase, to a large extent, depends upon the functional capacity and efficiency of different systems and their organs.
PHASE II
This phase commences with the completion of the training schedule and ends with the Restoration of Homeostasis of the body. This face lasts for a few minutes to 2 to 3 hours.
The following active recovery means can be adapted to make the recovery process faster.
Deep breathing faster.

To intake drinks containing carbohydrates, vitamins, salt, and Minerals.
PHASE III
The duration of this phase of recovery can last for many hours 27 days to several days. In this phase, the recovery is facilitated by the anabolic process. A substance such as enzymes and protein which get depleted in the process of undertaking the load gets re-synthesis.
TYPES OF TRAINING LOAD
INTERNAL LOAD
EXTERNAL LOAD
The internal load is defined as the psychological stress against players and can be measured by psychological variables such as:-
Maximum oxygen consumptions

Individual characteristics

Training status

Psychological status

Genetics
The External load is Denied by a variable such as:-
Like every individual has its capabilities these factors affect the individual that is imposed on a player.
Performance pressure

Distance, time, and weight

Training goals

Determinants
Training Load And Recovery
1. TYPES OF TRAINING LOAD:-  To improve different aspects of sports form, different types of loads are administered. Recovery is faster in the case of those loads in which ATP and CP are used for energy production which involves depletion of glycogen stores, recovery may take from almost 10 hours to 2 days. Recovery after strength loads may take 1 to 2 days on even longer.
2. HEALTH AND FITNESS:–  To attain faster recovery, the health, and fitness of sportspeople are important factors. Healthy and physically people recover faster from fatigue caused by training loads.
3. REST AND SLEEP:-Proper rest and sound sleep of 7 to 8 hours ensure complete recovery. In addition to physical and psychological recovery, sleep also helps in psychic recovery.
4. GOOD DIET:-  Good diet containing all-important nutrition namely carbohydrates, fats, vitamins, minerals, proteins, and water is required quantities is essential for faster recovery. Intake of nutrition such as carbohydrates vitamins, minerals in liquid can facilitate quick recovery. Intake of food at fixed hours and proper eating habits also ensure a faster recovery.
5. DAILY ROUTINE:- Proper control has to be exercised on a daily routine to ensure recovery from fatigue. If the biological clock is disturbed by making frequent changes in daily routine, the recovery process is adversely affected.
6. TOTAL LOAD OF THE DAY:- In addition to training and competition load, there are many other factors namely academic pursuits [in case sports person is studying] professional work  [in case sports person is employed] sharing household work, meeting weather and environmental stresses, Injury, etc. which increase the total load of the day. In the case of the total load goes beyond the loading capacity, the recovery process gets delayed.
7. MOVEMENTS QUALITY:- The quality of movement is the subjective factors which cannot be measured properly and sh easily when the correct movements are performed by sportsman is directly affect the training load for any kind of Technical and tactical process of perception movement quality becomes important aspects of training loads by increasing the degree of difficulty of movement training load maybe increase gradually.
8. STIMULUS INTENSITY AND STIMULUS VOLUME:- Recovery after load dominant by intensity are Quicker whereas it takes longer time when takes longer time when extensive loads are administered. Intensive loads lead to Quicker onset of fatigue but after the cessation load, recovery is also faster.
The objective means of judgments of a training load involve the assessment of psychological and biochemical variables during and immediately after the training schedule.
Bodyweight

Heart rate

The intensity of the training load

The volume of training load

Blood urea concentration

ATP and CP concentration

Glucose and fatty acid

Hormonal level [e.g. glucose, insulin, thyroxin]

Other biomechanical changes in the body.
Subjective means to Judge training load need to have needed to have specific equipment, apparatus, and expert in the eld. The coach and experts largely depend upon the subjective method to assess the training loads. In this method, the judgment of training load is done by judging the external symptoms of a sportsman In this method to assess the training loads one should be well aware of the following:
The behavior of a player

Increase the quantity of Sweating

Colour of the player skin

Loss of coordination

Increase in respiratory rate

Movement of the player
Training Load And Recovery
Read more about- How overload affects performance?
Read more about-  what are speed and its types?