A most common injury in sports- Every day millions, of people in the world, participate in games and sports activities, from the rugby fields to basketball courts and. it's called playing, but physical activities are more than play. Participation in sports and games improves physical fitness, mental fitness, coordination, and self-discipline and gives children valuable opportunities to play as teamwork. Games and sports can also result in injuries some are minors, some serious, and still others resulting in lifelong medical problems.
Young athletes/sportsperson taking part in games sports physical activities are in majority and they are not merely small adults. Their bones, muscles, tendons, and ligaments are going to make them more susceptible to injury.
The young player or an individual of the same age can differ in size and physical maturity. Some youngsters may be physically less mature than their peers and try to perform at a level for which they are not ready. Thus, coaches, physical educators, and parents should try to group youngsters according to skill and size, not chronological age, particularly during contact sports. If this is not practical, they should modify the sports/game to accommodate the needs of children with varying skill level
SOFT TISSUE INJURIES
WHAT IS SPRAIN?
The most common injury in sports is Sprain means stretch/rupture/ OR Tear of the ligament. The ligament is a fibrous band of connective tissue, which connects the end of one bone to the other. They give stability and support to the joints of the body. Example – The knee ligament connects the upper leg to the lower leg so that people can walk and run. Sprains usually occur in the ankle and elbow. Sometimes there is a risk of fracture with sprains. The main reason for sprains is lack of strength in the muscles, decreased stability while playing.
There are three types of sprains
Mild Sprain – A slight sprain in the ligament, slight swelling, or stiffness is called a mild sprain. In case of a sprain, a player can continue the game, because such a sprain does not give any kind of trouble to the player.
Moderate sprain – A slightly more stretch in the ligament is called a sprain. On such a sprain, the workforce of the ligament is affected. And this type of sprain can cause trouble for the player who is playing or walking.
Severe sprain – A complete sprain or separation of the bones is called a severe sprain. This type of sprain causes severe discomfort to the player. In this type of sprain, there is unbearable pain and the workforce of the ligament also ends.
Injuries of Sprain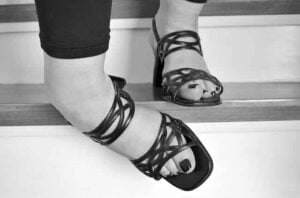 WRIST SPRAIN

HAMSTRING SPARIN

ANKLE SPRAIN

ABRASION OR GRAZE
Symptoms of sprain
Pain in sprain

The sprain is swollen

When a sprain occurs, that part of the body becomes powerless

Many times skin disease also occurs on the sprain

Many times the skin color changes at the site of severe sprain.

There may be a difference in intensity, but pain, brushing, and burning occurs in all three types of sprains – mild, moderate, severe.
Treatment of sprain
Adhering to RICE treatment accurately.

When a sprain occurs, that part of the body should be kept in a comfortable position.

To reduce pain, ice should be treated at the sprain.

The sprain should be covered with a bandage so that it stays warm.

A bandage of eight was tied on the leg injury so that it could get rest.

Hot water should not be baked for 24 hours after a sprain.

Massage done with light hands also helps in relaxing.

The doctor's advice is also necessary

Stretching daily helps a lot

Always wear well-fitting shoes
WHAT IS STRAIN?
A strain is a twist, pull or tear of a muscle, and/or tendon is a common sports injury. Tendons are fibrous cords of tissues that attach muscles to the bones. The strain is an acute type of injury results from overstretching or over contraction. In the body Ligament work to connect the joints of bones. The fibrous cords of the tissue connecting the muscles to the bones are called tendons. If the ligament breaks due to excessive tension on the ligament for any reason during training or sports, this rupture of the ligament is called strain. During the stretch, the player has unbearable pain and is unable to play
 There are three types of strains –
 MILD STRAIN – During training or sports, when there is a slight stretch in the muscles, the player feels slight pain, but there is no difficulty in playing it.
 MODERATE STRAIN – When there is a moderate stretch in muscles during sports or training, the player feels pain and his workforce also decreases.
SEVERE STRAIN – the main symptom – pain, muscle weakness, swelling, cramping. In acute strain, muscles and tendons shrink completely and have a bad effect on the person. Some functions in muscles are also affected. In the case of less pain, muscle-tendon is less stretched.
Injuries of Strain
STERNO- COSTAL JOINT STRAIN

BICEPS MUSCLE STRAIN

TRICEP MUSCLE STRAIN

FASCIA LATA STRAIN

MEDIAL LIGAMENT STRAIN

CALF MUSCLE STRAIN
WHAT IS CONTUSION?
A contusion is brushing of skin and underlying tissues of the body part due to a direct blow. These results in swelling and ecchymosis [clotting of blood in the skin ] The main reason for a contusion is direct to a particular body part i.e. ankle, elbow, arm, etc. usually from blunt object muscles, bones, nerve injury to tissue without breakage of skin.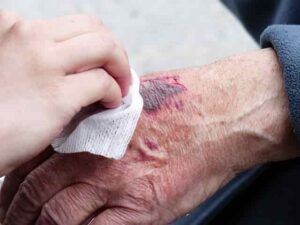 WHAT IS ABRASION?
Abrasion involves damage of the superficial epithelial covering of the skin or mucus membrane due to friction with hard, blunt, rough weapons or objects. At the time abrasion occurs there may be oozing of blood or sometimes slight oozing out of lymph. It can be easily healed without forming any permanent scar on the skin. Mainly there are four types of Abrasion are:-
Imprint abrasion [patterned]

Scratches abrasion [linear]

Pressure abrasion

Grazes or sliding abrasion
a most common injury in sports
HARD TISSUE INJURIES
WHAT IS FRACTURE?
A most common injury in sports- Many times players also get bone injuries under which fractures occur. A fracture means a broken bone or breaking down in continuity of the bone. This accounts for about 55 percent of sports injuries. The fracture causes complete or partial fracture of the bone. Sports medicine divides it into 8 types
Simple fracture – In this type of fracture, there is no wound due to bone breakdown. The skin does not explode from anywhere.
Compound Fracture – In this type of fracture bone fractures and wounds in which the bone breaks and comes out of the muscle or skin, Due to which the risk of infection is increased.
Multiple fractures – Multiple fracture bone breaks from more than one place, which has unbearable pain.
Comminuted fracture – Crushing injuries resulting in a bone splinter or shatter.
Spiral Fracture – In this fracture, the bone breaks due to twisting force.
Green Stick Fracture – This fracture occurs in infants or young children. In which the bone is not fully developed. Due to which the bone is not broken but just bent due to trauma.
Impacted fracture– In this, after breaking the bone, it enters the other bone.
Fracture is treated in the following ways-
If the bone is broken, it should be treated immediately.

If the bone is broken, that part of the body should not be moved.

The patient should be taken to a comfortable and warm place at the earliest.

The fractured area should be protected from infection.

If there is bleeding with the bone, it should be stopped immediately.

Clothes should be removed from the broken bone.

Should be taken to the doctor immediately after a fracture.
WHAT ARE JOINT INJURIES?
Jaw displacement

Shoulder dislocation

Shoulder separation

Radio humeral joint injury

Ankle dislocation

Knee cap dislocation

Finger dislocation
a most common injury in sports